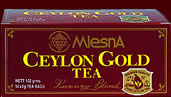 Ceylon Gold Tea Bag Cartons


These superior quality tea bags contain a carefully selected blend of quality B.O.P. Fannings from the cream of estates situated in the Dimbula region, which produce full-bodied teas that are rich in colour and flavour. This tea is ideal with milk and can be consumed at any time of day.

These tea bag cartons are available in
100g (50 x 2g) and 200g (100 x 2g) sizes.